This past summer, I was ready to upgrade my home video monitoring system to all 3MP high definition camera feeds and add additional cameras, this is what started me on my quest to upgrade my Network Video Recorder (NVR) solution.
At the time, I was only utilizing:
Two Ubiquity 720P High Definition PoE WeatherProof IP Cameras
Two Asante Voyager Standard Definition (640×480) Cameras with Audio
My NVR solution at the time consisted of a Compaq Desktop running Blue Iris on Windows Vista with the following specifications.
Compaq Micro ATX PC w SATA 300
2GB DDR2 PC2-6400 RAM
AMD Athlon 64 Dual Core 2.2Ghz Processor
160GB SATA Hard Drive
10/100 Network Interface
This system was not initially purchased to be tasked as an NVR, but a secondary desktop computer for standard home office computing, but it put an extra computer laying around in the office to work.
All in all, the system functioned fine for the recording of just one HD feed, however, if more than one HD camera triggered to record at the same time, both recordings would get choppy. The video was still useable, but looked similar to a time lapse video even though it was a standard feed. At the time, I even experimented with rolling back the frames per second on the feed to 10-15 frames per second (which decreases the processing load), but the problem continued. In addition, the CPU power monitor in Blue Iris would spike to 98-99% load regardless of the frame rate during recording.
I knew 4 cameras and 720P was my maximum on that system. If I wanted to upgrade cameras to a higher resolutions, or add additional cameras, I was upgrading the NVR. The computer performance and specifications just we're not designed to meet the needs of high definition video recording.
The Thrill of the Hunt
In order to identify my performance needs, I started out looking at the minimum and recommended specifications as defined by Blue Iris, my NVR recording software solution. Blue Iris has always served me well and is very stable software. It allows for the install of IP cameras from multiple manufacturers and also allows you to stream/record dynamic images from the Internet (I.e. traffic camera feeds that only show in JPEG stills but update every 1-2 minutes). The software allows for multi-user support, and interfaces with their mobile application (sold separately for $9.99, but worth every penny) which allows you to view your cameras in real time and also view recordings from your smartphone. You can even have your Blue Iris server send you push alerts for camera triggers to the cellphone application. And to top it off, they have some of the best customer service support I have ever experienced from a software provider.
Back to the build, Blue Iris recommends the following as
their minimum requirements to run the software (their requirements can be found here).
Blue Iris Minimum Specifications
Pentium Dual Core or Equivalent 2GHz Processor (or better)
2GB RAM (or more)
Microsoft Windows XP SP3 (or newer), or a Server OS
One or more USB or Network IP cameras, or an analog capture card with DirectShow drivers
Their recommendations for running High Definition cameras were as follows:
Blue Iris HD Specifications
Intel Core i7 Processor
8GB or more RAM
Microsoft Windows 7 64-Bit (or newer) (Update: Now compatible with Windows 10)
nVIDIA Graphics Adaptor for Hardware Decoding
7200+ RPM Hard Drives and/or Solid State Drives (SSD)
From here, I performed a little internet research to confirm if the recommendations appeared to be on par with the performance seen by users (user experience is important, as benchmark tests on paper don't always relate to the performance actually seen in the real world). A few reviews of IP Video Security forums and CompTIA video recording performance criterion confirmed that the Blue Iris recommendations where right on the mark.
It was at that point that I started looking for an "off the shelf" solution that I could mail order or pick-up off the shelf. Some people may not agree with this method, but much time can be saved in configuration and build time if you can find an off the shelf solution to fit your needs. Unfortunately, the search of online retailers, manufacturers, and big box stores alike yielded me only a few options worth considering under $1000.
The research then started on the cost to build a custom solution myself to meet my specific needs by pricing specific PC components. I would then be able to compare this with the cost of the "off the shelf" solution to see which direction to proceed. A few online searches later, I was able to find all the components to build a custom PC with better performance for $600. Over $400 less that the cost of the "off the shelf" solutions available. I have listed the components I chose below.
I quickly decided to go the custom build route, rather than an "off the shelf" solution. After a few quick clicks on an internet shopping cart to put the parts on hold at a local retailer, I was on my way to pick everything up. One trip a few hours later, and I was back at the casa ready to build a PC.
The Buzz of the Build
Similar to the saying that everyone should go hunting once in their life to understand what it takes to put meat on the table; building a desktop computer is something I believe everyone in today's world should do at least once. It is important to understand what goes into the machine to give us the technology we have at our fingertips every day. Especially when 84% of American households have a computer (Source: US Census Bureau, Computer and Internet Use in the United States: 2013). Building a PC is a great learning experience. And there's nothing like the sense of accomplishment when you fire it up and take it for a spin at the end of the process.
I wouldn't recommend completely doing it on your own if you don't have any experience. In this case, having a good IT support person at hand is a plus. It doesn't have to be a support tech at a repair store, it could be one of your neighbors, or your IT guy at the office. Most people have a tech-savvy person who can assist with a build relatively close at hand. This doesn't mean get them to do it for you (that kind of defeats the purpose ofthe learning experience) but having that person to help you over the humps, really helps the process. An average build is complete in 2-3 hours max (not including software install time).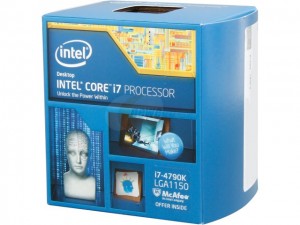 I was able to obtain the newest generation of Core i7 processor on sale, this is the most expensive and most delicate parts. There is little room for error with the processor install. Have an experienced technician assist you with the install if you do not have experience installing processors. I was able to mate the i7 with a quality Gigabyte motherboard, click in 8GB of RAM and a 1TB hard drive, mount to the case, plug in the power, and I was installing Windows in about 2 hours.
I chose to stick with the on-board video processor for this build. Since my goal is an NVR using a single monitor, most of the processing power is needed for video recording (i.e. the processor, RAM, and hard drive) and not the video graphics card. The Core i7 processors also do a great job supporting integrated video with the Intel HD Graphics Chipset without diminishing performance. If I was doing anything less than an i7 processor, an upgraded video card would have been higher on my priority list.
It's Show Time
After about another hour or two for the Windows install, Microsoft updates, and Blue Iris install, I was ready to see some cameras. Since I was a previous Blue Iris user, I was able to import my existing configuration from the old computer bringing all my old cameras instantly back online. All that was left was to configure the new HD cameras which I had installed but had not yet connected (didn't discuss the camera install as part of this write-up, if you are interested in the install, please comment and I would be happy to consider as a future post). Utilizing the "Add New Camera" function in Blue Iris, the new HD cameras were online in 15-30 minutes and were configured for motion recording. One final check of the Blue Iris configuration to make sure all user accounts were active and cameras were set and recording properly and the build was complete.
After monitoring the PC performance for around 60 days for stability reasons, I am happy to report that I could not be happier. The system now runs:
One Ubiquity 720P High Definition PoE Weatherproof IP Camera
Two Asante Voyager Standard Definition Cameras with Audio
Two Internet Dynamic Image Feeds
I am able to get smooth video recording across the board, even when all cameras are triggered to record at the same time. In addition, my average CPU load in the Blue Iris monitor is around 30%. Even with all cameras recording simultaneously, I haven't seen it over 60%. This is a tremendous improvement over the performance seen with the older desktop which was replaced. I have no doubt that the computer can handle future HD camera installs in addition to the existing installation.
Conclusion
Setting up a Network Video Recorder can provide you much more flexibility for the price than purchasing an out of the box surveillance solution. It breaks you free from the requirements of sticking with just one camera manufacturer, allows you enhanced recording capabilities, additional storage options, and more. However, it is important to ensure the performance of the computer you plan to use meets the requirements of your NVR software and that of your video monitoring system (i.e. SD, HD, number of cameras, etc).
Older computers are an option if you are breaking into the NVR world and want to get your feet wet for a limited cost, with the understanding that you will have performance limitations and will probably be stuck with Standard Definition (SD is still very capable and is much more affordable than HD when purchasing cameras). With multiple options to build a high performance NVR tailored computer, for under $1000, it remains an option for even those on a budget with some planning. If you plan long term to build for High Definition, the upfront investment will most likely be a requirement to get you the capabilities most users are looking for with the perk of HD, unless you happen to have a Core i7 desktop just lying around.